Are you currently daydreaming about a Caribbean vacation? If the thought of white sandy beaches, clear blue waters, and swaying palm trees sounds enticing, now is the perfect time to plan a trip to one of the top Caribbean islands.
Jamaica is currently trending among travelers, and for good reason. It is known for its stunning beauty, and has some of the best beaches in the Caribbean. Additionally, it is one of the most affordable islands to visit in the region. As a result, tourism in Jamaica has seen a nearly 10% increase this year compared to the previous record set in 2019. Here's why booking a trip to Jamaica now is a great idea:
Book in Advance for November and December Trips: This is the optimal time to book your flights to Jamaica if you want to save money on airfare for trips in November and early December. This period is considered the best time of the year to visit Jamaica, as you can enjoy great weather while avoiding potential storms during the fall hurricane season. Furthermore, you can benefit from lower crowds and lower prices before the peak tourist season, which starts in mid-December and lasts through mid-April. Booking your flight more than two months in advance ensures that you save money and avoid paying a premium for last-minute flights.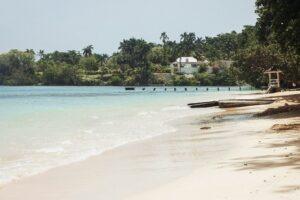 If you're planning a trip to Jamaica, it is essential to have travel insurance. There are various affordable options available, with plans starting at $10 per week. Having travel insurance provides peace of mind and protects you financially in case of any unforeseen circumstances or emergencies during your trip.
Affordability: Jamaica is currently a popular choice among travelers because of its affordability. It can be challenging to find cheap Caribbean destinations, but Jamaica is one of the best options. For those looking for an all-inclusive vacation on a budget, Jamaica is the perfect choice. There are numerous all-inclusive resorts located in beautiful destinations like Montego Bay. Currently, there are many all-inclusive resorts in Jamaica available for as little as $300 per night. Additionally, tourist activities and excursions in Jamaica are also more affordable compared to other Caribbean destinations.
New Flight Options: Getting to the Caribbean can be expensive, but there are now more budget-friendly direct flights to Jamaica from the United States and Canada. United Airlines recently added a new route from Denver, while WestJet introduced new flights from Edmonton for Canadian travelers. Frontier, a budget airline, launched new flights last winter from St. Louis and Denver to Jamaica, with fares as low as $99. With these new flight options, it is easier to find good deals on airfare to this Caribbean paradise.
Safety Despite Travel Warnings: Safety is always a concern for travelers, and Jamaica has experienced some issues in recent months. Earlier this year, the country declared a State of Emergency due to an increase in crime that affected 9 out of 14 parishes. Even tourist areas, such as Montego Bay, were affected. However, it is important to note that crime and violence in Jamaica do not typically impact tourists. This is why tourism numbers have continued to rise in 2023. Most travelers who visit Jamaica stay in resorts and participate in reputable tours and excursions, which offer a level of safety and protection. Although the U.S. State Department has issued an elevated travel safety warning for Jamaica, you can still have a safe and trouble-free vacation as long as you take standard precautions and avoid visiting risky areas.
In conclusion, if you're dreaming of a Caribbean getaway, now is the perfect time to plan a trip to Jamaica. It offers stunning beauty, affordable options, new flight routes, and a level of safety for tourists. By booking in advance, you can save money on airfare and enjoy the best weather with fewer crowds. Don't forget to consider travel insurance to protect yourself financially during your trip. Jamaica truly offers a slice of Caribbean paradise that is waiting to be explored.