Mount Dukono is renowned as one of the most active volcanoes worldwide, with continuous eruptions recorded since 1933. This formidable volcano offers an exceptional hiking experience, making it one of the top destinations for hikers in Indonesia. While it is possible to complete the hike in a single day, most adventurers prefer spending two days and one night camping on the mountain to make the experience less strenuous and to fully appreciate the breathtaking views. For the daring, it is even possible to climb the crater and glimpse inside; however, it is important to note the inherent dangers involved. One of the main reasons this hike is so unique is because it remains relatively unknown to tourists.
Located in the remote region of Maluku, Mount Dukono evokes a sense of excitement and adventure, reminiscent of Mount Bromo without the crowds. This comprehensive travel guide will provide information on how to reach Mount Dukono, what to expect during the hike, and other essential details to help plan your trip.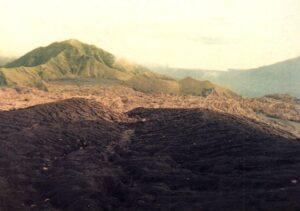 How to Reach Mount Dukono:
Mount Dukono is situated on Halmahera Island in North Maluku, Indonesia. The closest town to the base of the hike is Tobelo, which offers various accommodations, restaurants, and amenities. To reach Dukono, you can fly to either Kao Airport (code: KAZ) or Gamar Malamo Airport (code: GLX). Alternatively, you can fly to Ternate Airport (code: TTE) and take a boat to Halmahera, although this option requires a longer journey. Wings Air operates several direct flights per week from Manado in North Sulawesi to these airports. Manado can be reached by direct flights from Bali and Jakarta. Skyscanner is a useful tool for finding flights within Indonesia. From Manado, we flew to Kao Airport and then had a 1.5-hour drive to reach Tobelo, where we stayed overnight before and after the hike.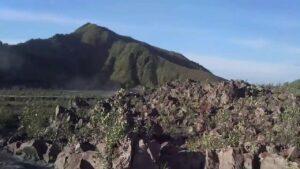 The Best Local Guide for Mount Dukono:
Having a local guide is essential for a safe and successful hike at Dukono. While it may incur additional expenses, I highly recommend undertaking this hike with a guide. The trail is mostly unmarked, and navigating it alone can be confusing. A guide possesses valuable knowledge about the volcano's behavior and can advise on safe proximity to the crater on any given day. If you choose to camp overnight, the guide can arrange for a porter to carry your camping gear, making the hike more manageable and enjoyable.
I completed this trip with Alex Djangu, a local trekking guide who is fluent in English and resides on Halmahera Island. Alex is incredibly knowledgeable and accommodating, having guided numerous international tourists to Mount Dukono and Mount Ibu, another impressive volcano on Halmahera.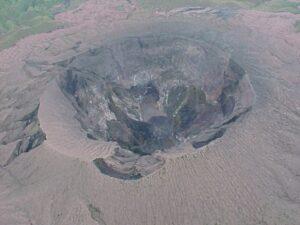 You can contact Alex via WhatsApp at ☎ +62 821-9123-5467 or email him at alex_djangu@yahoo.com (no spaces). Sending a message on WhatsApp is generally the most effective way to reach him.
Mount Dukono Hike: What to Expect:
The Mount Dukono hike can be completed as an arduous day trek or as an overnight camping experience near the crater, followed by a descent the next day. Opting for the overnight option allows for better visibility of the red lava after dark and provides the unique opportunity to fall asleep to the sounds of the powerful volcano.
Personally, I chose the one-day hike at Dukono to save time and money, but I am eager to camp there in the future. My guide, Alex, and I set off on scooters at 2 AM, reaching the starting point near Mamuya village.
Jungle Trek:
The hike begins at a relatively low altitude, considering the summit of Mount Dukono stands at 1,335 meters (4,380 feet). The initial part of the trek takes you through the jungle, with some sections paved. While the ascent is steep, there are no dangerous cliffs or exposure. The trail involves crossing several creeks, although they were dry during my visit. However, heavy rain can lead to flash flooding. Our main challenge was maintaining traction on the slippery dirt and tree roots. Along the way, we encountered a python, a monitor lizard, various giant centipedes, and exotic birds. We had to detour around the python, as it was crawling right on the main path. Eventually, the jungle gives way to an old lava field.
Old Lava Field:
After approximately four to five hours of hiking, we emerged from the jungle and caught our first glimpse of the smoking crater. The rumbling sound, akin to a jet engine, was already audible. For those camping, this is where you would set up your tent, approximately one to two kilometers from the volcano crater. From here, you will traverse an old black lava field until you reach the crater's summit. Although it may appear close, reaching the top of the crater takes one to two hours at a moderate pace. Along the way, you will encounter a captivating turquoise pool. Walking on the lava rocks can be challenging, but I found it easier compared to the jungle terrain. We paused here to fly the drone, attempting to capture the immense cloud of smoke billowing from the volcano.
Dukono Volcano Crater:
Upon reaching the summit of Mount Dukono, we carefully approached the crater's edge to witness the smoke and ash being expelled. The sight was truly awe-inspiring, and on certain occasions, one can even spot red-hot molten lava. For safety reasons, it is crucial to avoid approaching the crater when it is ejecting lava rocks. Dukono occasionally launches massive lava rocks, which descend like bombs onto the crater's slopes, posing a fatal threat. Fortunately, during our visit, the volcano was not ejecting rock bombs, although we observed some recent ones on the crater's slope. We spent approximately 30 minutes on the crater rim, with additional drone flights, before commencing our descent. The combination of noise, heat, and smoke was both terrifying and exhilarating.
Return Hike:
Descending from Dukono is easier than ascending; however, it still presents its challenges. The paved sections of the path, particularly after rainfall, can be steep and slippery. During our descent, we encountered heavy rain for one to two hours, resulting in multiple falls on the slick pavement. We embarked on our descent around 10 AM, as the clouds were already gathering. It took us four hours to reach the trail's starting point from the crater's summit, or nearly five hours including the scooter ride and other activities. Overall, my guide, Alex, and I spent approximately 12 hours hiking at Dukono, with the majority involving a demanding uphill trek over rough volcanic terrain and muddy paths in the jungle. We were utterly exhausted and covered in dirt, especially after starting our journey in the early hours of the night. After a quick meal in Tobelo town the following afternoon, I succumbed to an 11-hour sleep. What an unforgettable day it was!
Is Dukono Volcano Still Active?
Yes, Mount Dukono remains in a perpetual state of activity, with continuous eruptions recorded since 1933. For specific inquiries regarding the current volcanic activity, feel free to contact my local guide, Alex, using the provided contact details. The level of volcanic activity at Dukono varies from year to year, but it consistently offers a captivating spectacle. During my visit in 2021, there was less ash emission than usual, and the volcano produced fewer rock bombs.
Is Mount Dukono Safe?
Undoubtedly, the overall safety of this trek is subject to considerable uncertainty at best.