From now until September 22nd, Chase Ultimate Rewards point holders can take advantage of a special offer from British Airways. For every 1,000 Chase Ultimate Rewards points transferred, customers will receive 1,300 Avios. This promotion provides an opportunity for Chase Ultimate Rewards point holders to maximize the value of their points.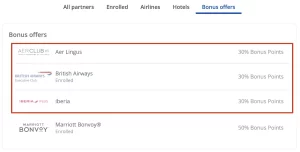 British Airways Avios are typically best utilized for short-haul flights on one-world carriers like American Airlines. However, there is now an additional option for using Avios to book Qatar QSuites by linking your British Airways and Qatar Airways accounts. This opens up a new avenue for travelers to enjoy premium cabin awards on long-haul flights. If you can find QSuite availability on dates that work for you or if you have flexibility in your travel plans, this promotion may be particularly enticing.
In addition to British Airways, there are other airlines within the Avios program that offer attractive redemption options. For example, Iberia has a "Sweet Spot" where you can fly from the East Coast of the United States to Madrid (MAD) using a relatively low number of Avios. Aer Lingus also has a similar sweet spot, allowing travelers to fly from the Eastern US to Dublin (DUB) with a favorable redemption rate.
We hope this promotion provides an exciting opportunity for Chase Ultimate Rewards points holders to maximize the value of their points and enjoy some fantastic travel experiences. Take advantage of this limited-time offer and start planning your next adventure today!