Laos is often overlooked as a travel destination in Asia, but it shouldn't be. While countries like Vietnam and Thailand are popular, Laos has its own unique attractions that make it worth a visit. Here are six reasons why your next trip to Asia should include Laos.
1. Luang Prabang: This city in northern Laos is slowly gaining popularity among travelers. It has been ranked as one of the best cities in Asia by Travel and Leisure's World Best Awards. Luang Prabang is known for its stunning scenery, French Colonial architecture, and romantic sunset boat rides along the Mekong River. It is also a UNESCO World Heritage Site.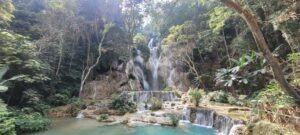 2. Affordability: Laos is a budget traveler's dream. It is much more affordable than other popular destinations in Asia. With a budget of under $40 per day, you can cover all the basics like food, accommodation, and transportation. Despite the fact that there are no direct flights from the United States, Laos's affordability makes up for the cost of the flight.
3. Stunning Nature: Laos rivals some of the top destinations in Asia when it comes to natural beauty. It may not have a beach, but it has plenty of other attractions like waterfalls, delicious food, rich culture, and even elephant sanctuaries. The turquoise waters of Kuang Si Falls are postcard-worthy and will leave you in awe.
4. Nam Et-Phou Louey National Park: This national park in Houaphan province is a must-visit. It was named one of the best night safaris and offers a stunning landscape that you will remember forever. There is biodiversity and natural beauty all around you, whether you choose to take a river cruise or go on a hiking tour.
5. The Perfect Solo Trip: Laos is a great destination for solo travelers. The country is known for its warm and welcoming culture, which makes solo travelers feel at home. With affordable hostels and easy transportation options, it is easy to explore Laos on your own. Crime rates are relatively low, so you can feel safe and worry-free during your solo adventure.
6. Investment in Tourism: Laos is actively investing in its tourism industry and wants more travelers to visit. The country has improved the quality of service at hotels, restaurants, and guesthouses to provide a better experience for visitors. The beauty of Laos is becoming more and more well known, and the locals are welcoming more visitors from all over the world, including Americans.
In conclusion, Laos should not be overlooked as a travel destination in Asia. It offers stunning natural beauty, affordability, a welcoming culture, and investment in tourism. Whether you're looking for adventure, relaxation, or cultural immersion, Laos has it all. Make Laos your next Asian getaway and discover the hidden gems of this underrated country.